Support for ALL Students and Families in Their Time of Need
Ram Landing is located at the Freshman Campus, now known as the Innovation Center, at 9206 Zier Road, Yakima, WA 98908.
We are open by appointment only. Please text Jill at 509-860-1812 between the hours of 8am and 3pm, Monday through Friday (excluding holidays), or email any time.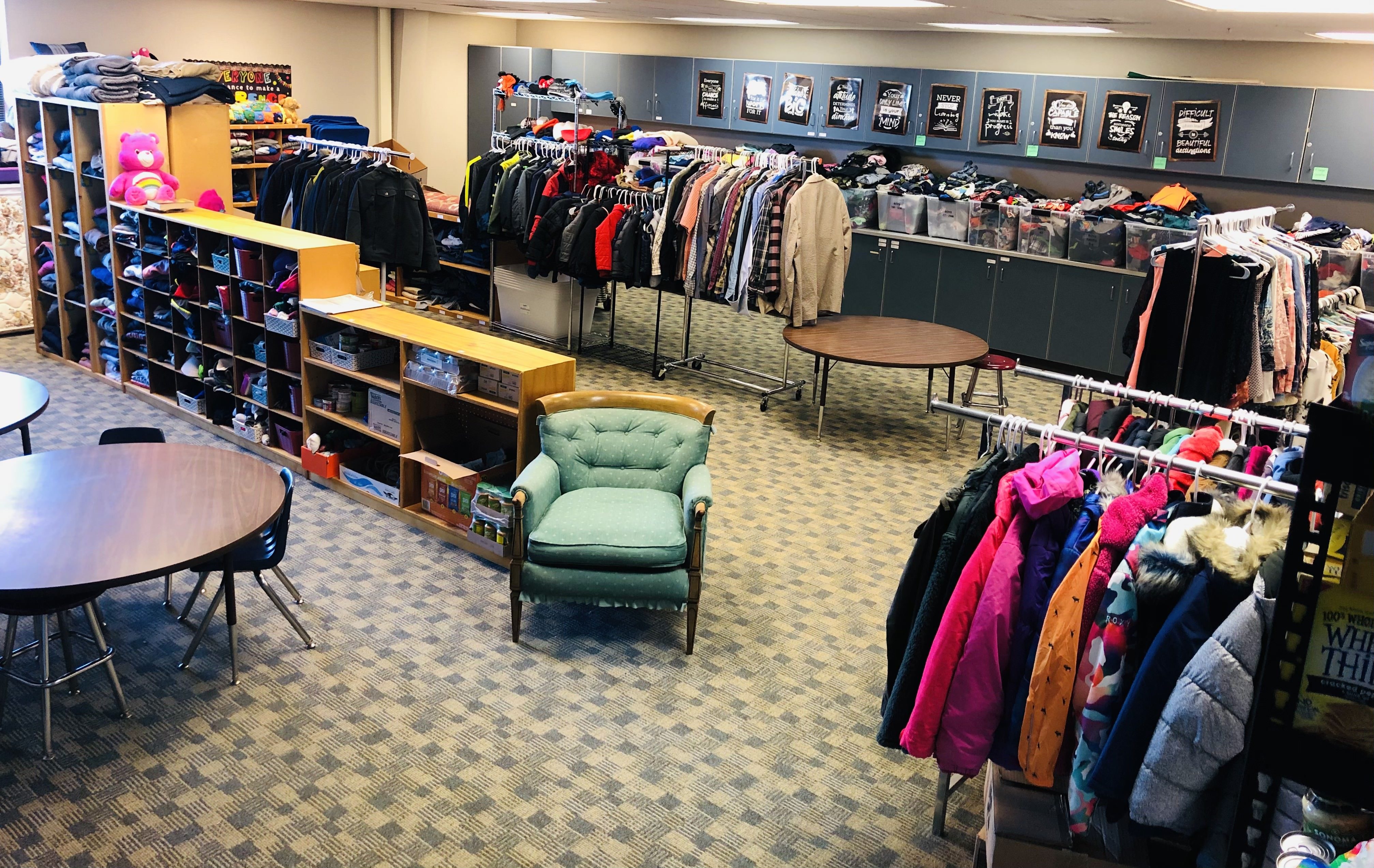 Ram Landing
Ram Landing is a safe place to land for all students and families in the West Valley School District. Ram Landing features a personal shopping experience for everyone, so you can come in and choose the items you and your family need. You can find many items donated by our generous community.
You can find:
School supplies
Gently used clothes and shoes
Personal hygiene items
Food
Do you want to donate?

We are always looking for donations and are happy to accept gently used items and non-perishable food.
Please email RAM Landing to arrange a drop-off.

Ram Landing or the idea of a "pantry" for our West Valley families has been a work in progress for many years. The idea started in 2018 when Lexi Tyler was our State and Federal Director. Lexi along with her team: Stephanie Smith and Kerri Klippert - set out to collect donations for food, gently used clothing, and personal hygiene items at each building. Buildings set out a bin that said, "Donations here". Items were collected and stored at the freshman campus for a short time and then moved into the attic above the central office. The collection grew over the years and was used to meet the needs of our families and students experiencing homelessness. As the collection grew, district administrators talked about how to house the items so that they were more accessible and organized for our families. The goal was to make it a resource for ANY family in need and add non-perishable food items and school supplies to the collection.
In 2020 -2021, during the development of the Innovation Center, Chris Nesmith (Director of CTE for the district), Russ Tuman (The Middle-Level Campus Principal - now Director of Student Experience at the Innovation Center), and Jerilyn Ashbaugh (State and Federal Coordinator) discussed a "Pantry" that ALL families in need could benefit from. The idea was to house it at the Innovation Center and make it a shopping experience versus a service. The culture of the "pantry" would provide individual dignity to all who visited.
That same year West Valley School District was able to hire Jill Hendricks, a family engagement paraprofessional, part-time to serve our McKinney-Vento families. She would call monthly and check on families and support them in any way she could to help students access their education, whether it was school supplies, shoes for PE or athletics, or simply a warm coat for winter. This year, in 2021-2022, WVSD was able to bring Jill on full-time to support all families in need through her work at the "Ram Landing" - a safe place to land.
With the help from our facilities department, Jill managed to get all the clothing from the attic at the central office to the Innovation Center and she sat in the midst of it all - she washed, folded, and organized a room that had easy access to school supplies, food, personal hygiene items, and clothing. Our goal - support ALL students and families in their time of need.
Along with managing the physical location, Jill coordinates with building counselors to support our students experiencing homelessness. She reaches out to families, works with building staff and PTAs, and the high school FCCLA to organize clothing drives in their respective buildings. The donations go directly to the RAM Landing and students and families in our West Valley Community. Jill has also worked with high school teachers Tom Robinson in the coordination of Miracle on Zier Road (bringing Christmas to several families) and Ryan Johnson in coordinating students in his Life Skills class to pick up, wash and fold the laundry donations on a regular basis. Many counselors, teachers, and families have visited the Ram Landing and gathered items needed to support students and families in their time of need.