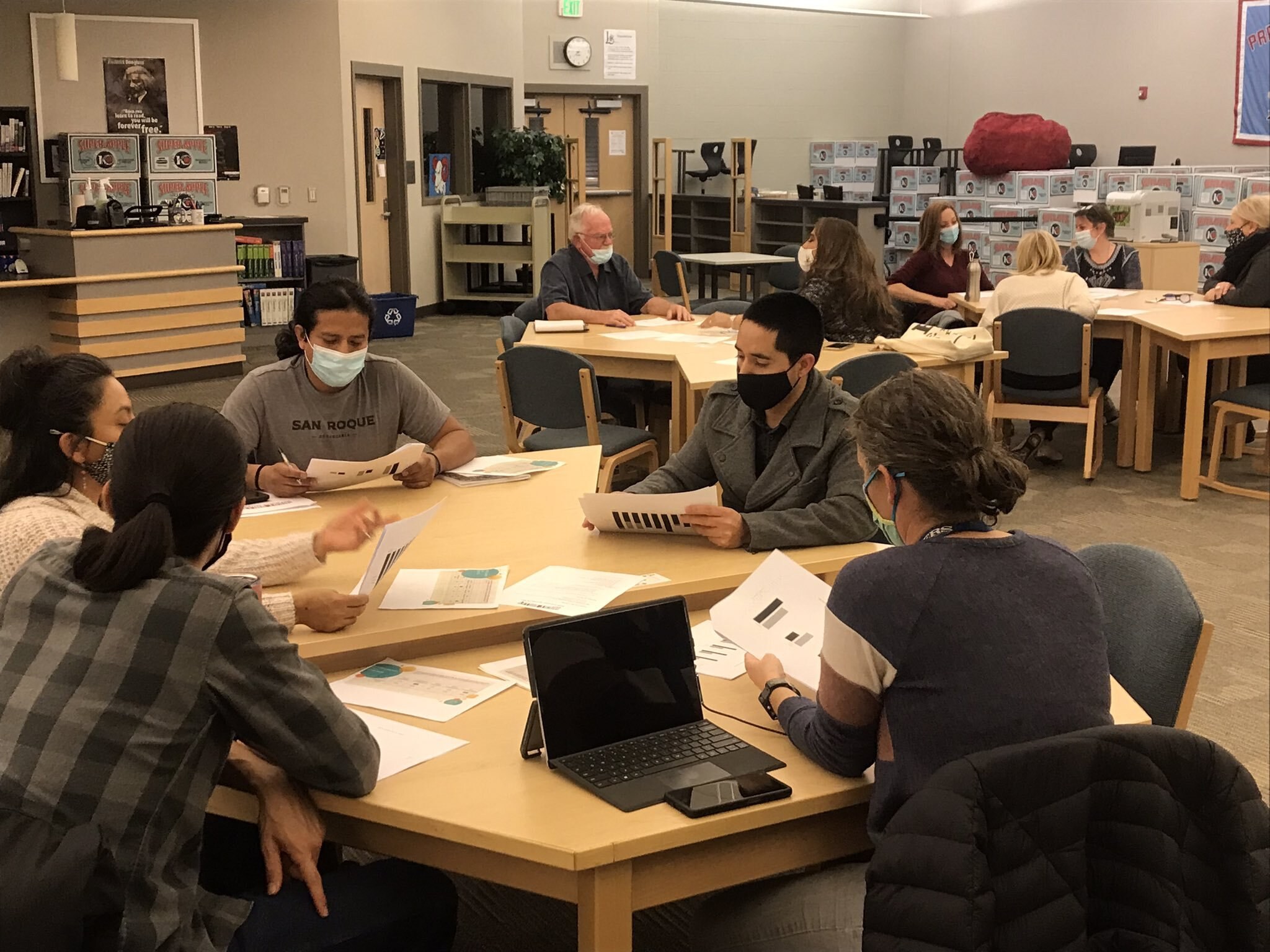 WVSD208 Equity & Inclusion Strengths, Weaknesses, Opportunities, & Barriers Brainstorming
Feb 2, 2022
Stakeholders in West Valley have identified strengths, weaknesses, opportunities, and barriers in relation to equity and inclusion.
Click below to see the list of ideas in each area:

Strengths
Weaknesses
Opportunities
Barriers
At the next meeting of the Equity and Inclusion Work Group, the group will identify strategies to:
Maximize strengths
Address weaknesses
Capitalize on opportunities
Remove barriers
Strategies will be presented to the School Board in the spring for consideration for the 2022/23 school year.

It is a strength that…
Our district is having conversations about equity and inclusion. Acknowledgement of issues. Stakeholders who have passion/willingness/drive/high-expectations to tackle this issue.
Equity and inclusion is a district-level focus with goals and we have staff to work on this.
We are having conversations with a focus to benefit students with disabilities.
Our district has a work group that includes parents and community members.
Our district has staff members who are willing to try and learn about equity and inclusion.
Our district has bilingual staff members.
We are opening up conversations with families and talking directly to them vs second hand information.
We are focused on data which allows for more conversation which will result in problem-solving and solution-finding.
The district has provided professional development opportunities in the past for staff members at the Summer Institute sessions which included learning about equity and inclusion.
We are actually doing the work. We have a focus across the district.
Our district is willing to examine our weaknesses and create plans to improve.
Our district is trying to reach all parents and get them involved.
Communication is good about highly capable services.
Communication is good about early learning and Head Start.
Communication is good about testing
Communication is good to Spanish-speaking families but sometimes the translations are confusing.
Communication with families who do not speak English.
District communications are in both English and Spanish.
Our district has a focus on improving relationships with families and staff to motivate students for high achievement.
There are good opportunities for after school activities but there is a need to increase participation.
Communication about attendance is good - parents are able to check attendance and grades on Skyward.
Special Olympics.
Willingness to listen. From the top down, staff are taking responsibility for equity and inclusion.
School leaders and district leaders are accessible.
Work groups allow for community participation.
Secondary schools offer a wide variety of after school activities and extra-curricular activities - there are different options for after school activities for students who don't play sports.
Dual language program would benefit students
Good data and a lot you can do with the Hanover perceptual data from the high school - disaggregate the data to get the most out of it.
District is open to being honest, creating dialogue, and increasing awareness.
District is willing to discuss topics that others feel are taboo.

Opportunities for the community to get involved if they want to make changes - opportunities for the community to participate in the work group.
Openness to different perspectives.
Hiring the correct people who treat families well and try to help students and families.
Play and Learn Group for Kindergarten Readiness. Family engagement with families of young children.
Band and music opportunities - music programs - anybody can be in band and choir.
Teachers are always engaged with the students and push them to be good people, not just good students.
Good bus routes - good communication from the Transportation Department.
The District came back to in-person learning for elementary students in October 2020.
The District is handling COVID well.
English Language program does a great job of assessing students and giving them the support that they need.
The District mails information every other month to communicate with individuals who do not have students in school.
District is putting more information out to the community so they can be involved.
More news on the website has been a positive improvement.
District has been hiring more bilingual staff and teachers.
Recognition of student achievement.
West Valley has a whole has good test scores.
It's good that the district analyzes post-graduate information.
Opportunities for students to intern with trade jobs (Registered Apprenticeship opportunities) - good feedback from businesses about West Valley students.
Classes for HS students to learn financial skills.
Teachers who spark engagement in students.
The District provides access to outside programs that benefit students.
High academic standards.
The Highly Capable program has come a long way in the last 12-15 years. No longer about just about getting into the PAL program. It recognizes individual student needs and getting their learning styles and needs met. WVSD has done a great job of recognizing those students and getting them the services they need. Not all students have gifts/strengths in all areas. Student individual needs are being met.
Outreach, communication, and opportunities. Thankful for the opportunity to share our thoughts.
It is a weakness that…
West Valley does not have a sufficient number of staff members to support equity and inclusion.
The district lacks foundational systems to support equity and inclusion.
There is not opportunity for ALL and resources are not dispersed equally.
Our staff demographics don't mirror our student demographics in terms of diversity.
The district's focus on Hispanic populations may result in missing the needs of other groups
There is a lack of multilingual staff in each school. There is a need for multiple bilingual staff members at each school.
There is a lack of recruitment of staff who were raised outside of West Valley - lack of different perspectives - lack of exposure to different cultures.
There is a slow turn-around time in obtaining data and getting data that is up-to-date. More recent data would be more helpful.
We do not have a diverse school staff.
There are few bilingual staff members who speak languages other than Spanish.
The percent of 3rd grade students who read at grade level is unsatisfactory.
Some parents do not support teachers. Teachers need to be supported by parents and the community.
There is a lack of behavior programs and support.
There is a lack of a sufficient number of special education teachers and paraeducators.
There is a lack of parents who serve as liaisons and helpers for other parents. Need multilingual parents who can serve as mentors for students and other parents.
There is a lack of training for teachers on how to remain impartial.
There is a lack of support for students who have been suspended for reform/rehabilitation.
There is a lack of mental health counselors.
There is a lack of translated materials - this can be seen by parents that the school doesn't care enough to translate materials.
There is a lack of parent/family surveys on a regular basis with results provided for everyone, including parents, to analyze.
There is a lack of training for teachers who serve as advisors during advisory periods.
There is a lack of training for teachers who lead after school activities.
There is a lack of parent involvement in after school clubs and activities.
-There is a lack of follow-up when parents want to volunteer.
There is a lack of communication with the entire community.
There is a lack of participation by the community in school improvement processes.
There is a lack of diversity of thought.
There is a fear of change.
There is a mindset of "I know best" - a lack of a willingness to have a fresh lens.
There is a lack of welcoming of "outsiders" who are new to West Valley.
There are things about iReady Math that are difficult to understand such as specific assignments and how they are scored. We get a grade or score but we are not able to go back and see which problems are incorrect to learn from. There does not appear to be a connection between what is being done on iReady Math and what the teacher is teaching in class.
There is an opportunity to…
Go directly to the schools in West Valley where suspension rates are down and ask how we can apply their strategies to our sub-groups of students.
Use local experts for professional development. We don't have to invent the wheel. Use the experts around us. Have experts visit West Valley, analyze our district, and give us recommendations.
Actively search for diverse candidates and recruit them to work in West Valley.
Provide training for certificated staff and support staff.
Continue having these conversations.
Provide clear communication around what the district goals are around equity and inclusion.
Provide more professional development for staff.
Provide a place for students to share issues - a quiet room.
Use the Family Engagement Specialist to have bi-weekly meetings with students from the Migrant Education Program regarding college applications, scholarships, etc.
Expand on the positive relationships that are in place.
Engage the community with work groups - continue to provide opportunities for open dialogue.
Use our schools for fun and work so they are welcoming and create a sense of belonging - invite families to visit, eat, learn, volunteer.
Provide intramural sports for students.
Continue to grow the Innovation Center.
Continue to advertise Parent Child Plus (home visiting) and Play & Learn for families with young children.
Continue to partner with early learning providers and organizations
Use facilities more.
No masks.
Support parents to support their students (classes, resources, technology).
Continue with ESL classes for adults.
Provide child care and food for families when the schools host parent education activities.
Review the policy for participation in extra-curricular sports (GPA requirement).
Parents can volunteer with after school activities at the Mid-Level Campus.
Co-teaching.
Create culture within sub-groups.
Use stories - voices of students, families, and community members - both good and bad experiences.
Use a strength-based approach. Compare student growth to where the student was previously.
Restorative justice.
Relationships.
Redefine "what is school"
Provide more paraprofessional support.
World view is important - not one-sided.
Increase parent input - involvement, surveys. Share results of the surveys.
Increase after school activities for younger students (clubs and sports) and provide transportation.
Increase services for highly capable students at the Mid-Level Campus.
Inclusive teaching is not subjective.
Offer preschool to more 3 year olds and 4 year olds.
Students tutoring other students.
Guide and use technology to prepare 3 year olds and 4 year olds for Kindergarten.
Improve the lunch menu.
Use a parent survey (such as survey monkey) about equity and inclusion discussion results and share at work group.
Use short parent surveys - less than 5 minutes.
Use families as resources to address issues and improve family involvement.
Accelerated Reader options. My son was able to do one of the readings in Spanish. Son is getting to practice reading in Spanish. Spanish speaking families are able to take advantage of this option if they are working on a second language. WVSD should promote this option. Are there other languages?
Expand the West Valley Futures program. Some students work better in a non-traditional classroom. The West Valley Futures program allows students to graduate and feeds into great careers. The Machining Program feeds into Boeing.
The West Valley Futures program and Innovation Center is a fantastic opportunity for our students. Great for students on the fringes who need a non-traditional setting. I know several students from the Highly Capable program who I follow who are thriving at the Innovation Center.
We have more opportunities to make sure there are no communication barriers for languages outside of English and Spanish. Identify all of the languages that are spoken by families in the district and make sure they are receiving information in their home language.
Continue to provide opportunities for open dialogue.
I speak for my son. He is at the Innovation Center and he believes it is really the pathway for his future. He loves it and feels supported. He believes it will lead him to be successful after he graduates.
Continue to provide ESL classes for parents.
Add a Dual Language Program. We want our children not to forget Spanish. They could have resources such as readings in both languages.
Provide a Family Night in Spanish for HiCap and Advanced Classes.
Continue to grow and enhance our Migrant outreach and opportunities.
Access supports from the Educational Service District in Yakima.
Organize a culture night to celebrate the diversity of cultures in West Valley.
After school programs are a great opportunity for all students. Variety of things to offer for students and parents to support our kids on.
Bring in parents or other adults who are experts as guest speakers for advisory period or for classroom projects.
Continue to sharing OSPI website data.
We have different student populations who all bring a richness of diversity. Enlist student voices to provide guidance, give them a seat at the table, give them an opportunity to showcase their leadership skills and enhance their own education.
Include info about adult ESL in the district newsletter and flyers mailed to households
Barriers to equity and inclusion are…
Lack of training.
Lack full understanding of what "Equity and Inclusion" is.
Some parents have a difficult time with online usage (Skyward).
Time. Staffing. Fixed mindset. Limited professional development and training. Getting everyone on the same path - Common Vision.
Many staff members have had a different experience with education - they haven't had to 'worry' about equity and inclusion.
Lack of time for professional development.
Lack of information and lack of knowledge of where to find the information.
Fear of judgement.
The time to take a deeper dive into the data.
Lack of resources.
Limited participation.
"Pay to participate" fees.
Access to before and after school child care.
Fear. Fear is a barrier - afraid to speak about issues, fear of change, fear of how you will be viewed. Fear of losing something.
Viewing student achievement as a zero-sum game.
Standardized expectations and cultural norms.
Funding.
Access.
A rigid mindset and belief system.
Programming.
Language barriers and cultural barriers.
Effective Communication, especially getting information to parents in other languages.
Awareness and a willingness to know and grow.
Relationships.
Lack of empathy and lack of tolerance.
Self-esteem.
A deficit-based mindset.
Making sure students with disabilities are included with their peers.
Limited opportunity for sports at the elementary level.
Access to healthy food for students.
Teachers with diverse backgrounds.
Website is difficult to navigate to find resources for families.
Technological barriers.
Keeping teachers up-to-date with best practices.
Time.
Getting accurate parent input and student input.
Socio-economic differences. Differences in experiences and opportunities.
Perspectives of different cultures not represented in the schools.
Lack of appreciation for differences.
Access and exposure to technology and training.
Too dependent on technology for student access to learning.
Lack of patience.
Lack of willingness to attend trainings about equity and inclusion.
My student is attending the innovation center. Sometimes she needs more guidance. For example, she is doing a lot of projects. She told me she doesn't have enough time to do math and I don't know how to help.
Maybe language is a barrier because there are a lot of families who are afraid to speak because they do not speak the language.

Clubs are only an opportunity for students if they are able to stay after school. We do have transportation but students may not be available after school.
---