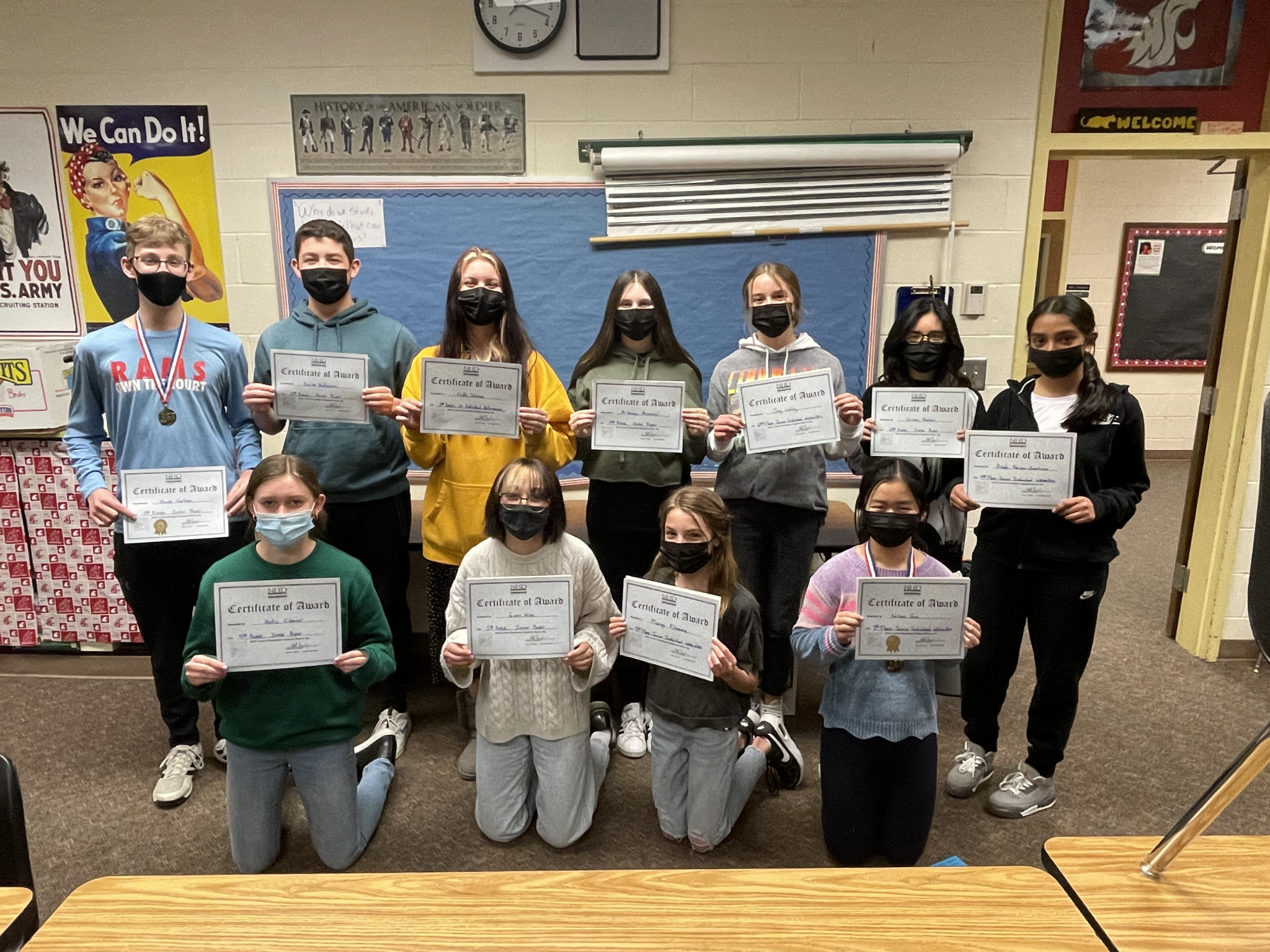 West Valley Junior High competed in the Central Washington History Day Contest and now 11 students are going to State
Mar 15, 2022
On Saturday March 5, 2022, 45 students from West Valley Junior High competed in the Central Washington History Day Contest at Davis High School in Yakima. West Valley had an amazing showing at the event by winning 11 state awards and completely sweeping the individual website and paper categories. 11 students will be advancing to the upcoming state contest.
Junior Individual Websites - Top 4 to State
4th Place- The Radium Girls: A legal debate over safety in the workplace that eventually led to reform AVAH FARIAS-QUINTERO, West Valley Jr High
3rd Place- The Debate, Diplomacy, and Significance of the Election of 1800: The Peaceful Battle MARGO FILLMORE, West Valley Jr High

2nd Place- Opportunistic Diplomacy: The Louisiana Purchase and the Napoleonic Wars Joy Lally, West Valley Jr High
1st Place- Securing the Peace: The story of the San Francisco Conference and how international diplomacy gave birth to the United Nations Lilian Gu, West Valley Jr. High
Junior Individual Performances - Top 3 to State
2nd Place- Separate But Equal: The Debate that Justified Racial Segregation for Over 50 Years Kindle Johnson, West Valley Jr. High
Junior Historical Papers - Top 6 to State
6th Place- School Integration: The Debate Over Busing and School Reform Kailer Valdovinos, West Valley Jr High
5th Place- "The Troubles": The Good Friday Agreement's Diplomatic Effort to End Northern Irelan's Violent Debates Gwen Wise, West Valley Jr High
4th Place- The Zimmermann Telegram: Sneaky Diplomatic Maneuvering That Changed the Debate Over American Neutrality in World War I Halle Cleaver, West Valley Jr High
3rd Place- The Seneca Falls Convention: How women fought and debated for their rights McKenzie Rossmeisl, West Valley Jr High
2nd Place- The Montgomery Bus Boycott: The Debate Over Bus Integration and How it Affected Civil Rights Shireen Mazhar, West Valley Jr High
1st Place- The Constitutional Convention of 1787: A Series of Debates and Compromises that Solved the Issues of The Articles of Confederation Jacob Carlson, West Valley Jr High
Congratulations to all the winners and students who competed in the contest. Mr. Liebrecht, Mrs. Pryor, and Mr. Oliva are very proud of all of you – way to go Rams!
---