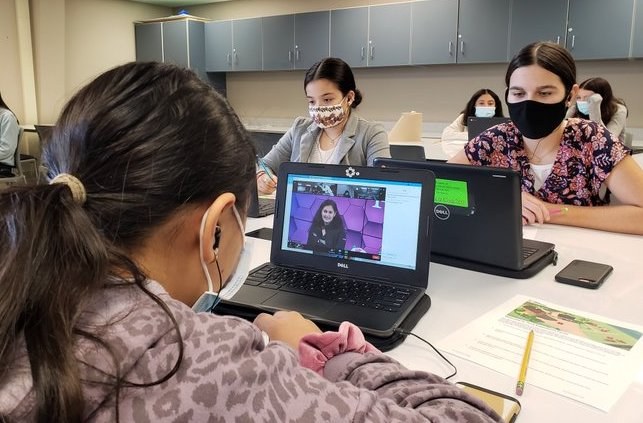 IGNITE Empowers Young Girls to Pursue STEM
Aug 25, 2022
STEM (Science, Technology, Engineering, and Mathematics) fields are generally male dominated but IGNITE aims to change that. IGNITE is a program for girls and non-binary students to dive into STEM, explore different opportunities, find mentors, build connections, and gain hands-on experience in various fields.
Devina Khan, West Valley Innovation Center's Computer Science Teacher, leads the IGNITE program for WVSD208. Khan shares, "Through IGNITE our underrepresented populations get connected with professionals with jobs in STEM fields and hands-on experiences and inspiration to hopefully bridge the gender gap in STEM. It's a fulfilling endeavor to see students feel empowered and hopeful, as well as build self-confidence to pursue careers in STEM fields."
Khan is also proud that West Valley is actively working on creating an environment and opportunities for diverse groups to embrace STEM subjects and careers.
Every year, the IGNITE team hosts the STEM Fair. These amazing students work together to put this event on and engage with community partners and businesses to showcase how their knowledge will impact the world.
Dates for this year's STEM fair will be announced in the next few months, so keep a lookout for details!
If you know a student who might be interested in IGNITE, please contact Mrs. Khan
IGNITE anima a las jóvenes a dedicarse a la educación STEM
Los ámbitos de STEM (Ciencia, Tecnología, Ingeniería y Matemáticas) son dominados por los hombres, pero IGNITE quiere cambiar eso. IGNITE es un programa para niñas y estudiantes no binarios para meterse a STEM, explorar diferentes oportunidades, encontrar mentores, establecer conexiones y obtener experiencia práctica en varios ámbitos.
Devina Khan, maestra de ciencias de la computación del Centro de Innovación de West Valley, dirige el programa IGNITE para WVSD208. Khan dice: "A través de IGNITE, nuestras poblaciones subrepresentadas se ponen en contacto con profesionales con trabajos en ámbitos de STEM y con experiencias prácticas e inspiración para, con suerte, reducir la brecha de género en STEM. Es un esfuerzo satisfactorio ver a los estudiantes sentirse empoderados y esperanzados, así como construir la confianza en sí mismos para seguir carreras en los ámbitos STEM."
Khan también está orgullosa de que West Valley trabaje activamente en la creación de un entorno y de oportunidades para que diversos grupos adopten las materias y carreras STEM.
Cada año, el equipo IGNITE organiza la Feria STEM. Estos increíbles estudiantes trabajan juntos para organizar este evento y comprometerse con los socios de la comunidad y las empresas para mostrar cómo sus conocimientos tendrán un impacto en el mundo.
Las fechas de la feria STEM de este año se anunciarán en los próximos meses, así que estate atento para los detalles.
Si conoces a un estudiante que pueda estar interesado en IGNITE, por favor, ponte en contacto con Khan.
---