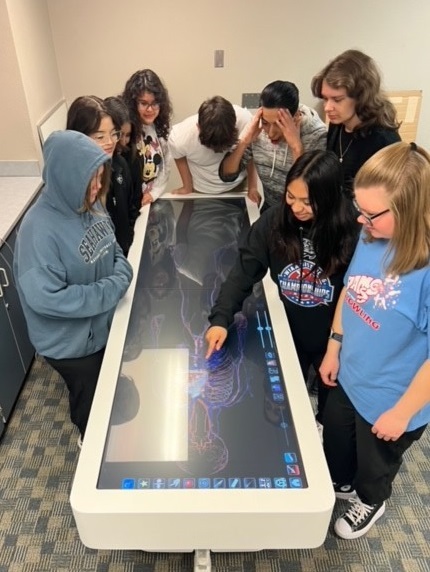 Health Science Pathway
Nov 13, 2023
Health Science Pathway at West Valley Innovation Center
In today's ever-evolving health care landscape, there's a growing need for well-prepared health care professionals. One innovative and dynamic program that's making a difference is the Health Science Pathway for Grades 7-12 at the West Valley Innovation Center. This exciting pathway equips students with the skills and knowledge they need to thrive in the health care field and build vital partnerships along the way.
At the heart of this program is the cutting-edge Anatomage Table. This remarkable tool allows students to explore the intricacies of the human body in 3D, providing an immersive learning experience that was once unimaginable. It's a game-changer for students interested in anatomy, medicine, and health sciences.
In addition to anatomical knowledge, students in the program gain essential life-saving skills by earning CPR and First Aid certification cards. These certifications prepare students for emergencies and instill confidence to take action when it matters most.
Food safety is a crucial aspect of health care. Students have the opportunity to obtain their Food Handler Permit, ensuring that they can implement food safety standards, a critical skill for anyone in the health care field.
The Health Science Pathway program at the Innovation Center fosters vital partnerships with institutions like Yakima Valley School and the Yakima Valley Farmworkers Clinic. These partnerships open doors for students to gain real-world experience, learn from experienced professionals, and expand their network within the health care community. It's a win-win situation that enriches both the students and the community.
In conclusion, the Health Science Pathway at the West Valley Innovation Center is a beacon of hope for the health care leaders of tomorrow. With cutting-edge technology, essential life-saving skills, and valuable partnerships, students are well-prepared for success in the ever-evolving health care world. This pathway is shaping the future of health care one student at a time, making the world a healthier and safer place for all.
---