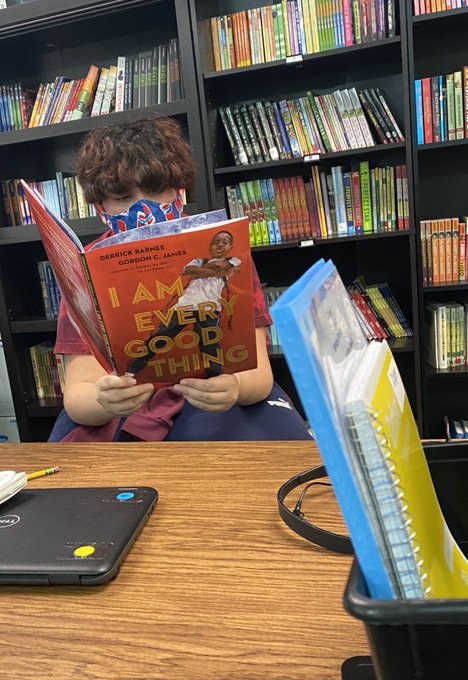 Fostering a Love of Reading, One Child at a Time
Apr 27, 2022
Amber Stiles-Gill coordinates literacy, math, and English language support classes at the WV Mid-Level Campus. These classes help students in grades 6-8 who have tested below grade level and need additional help. Support programs are offered throughout the school day and are designed to meet the unique needs of each student, using a mix of learning stations, online programs, and small group instruction. Students qualify for these programs based on test results from the district's diagnostic reading assessment that is administered in the fall, winter, and spring.
Teachers in support class programs are committed to student success. "Every student deserves to have moments in their day where they feel successful, and we strive to create a caring, welcoming environment every day in our classes," says Amber. "Our intervention teachers are advocates for our learners, and we love to celebrate our students' success." These teachers want students to succeed beyond the classroom, graduate high school, and achieve their goals.
One of Amber's favorite stories from her time as an intervention teacher was when she had a student who constantly told her how much she hated reading and would only read books about cats. Amber bought every cat book she could find, and finally, right before spring break, she found the perfect book. The student's mother sent her a picture of her daughter happily reading poolside in Mexico!
"I, like any teacher, love the way a student's face lights up when they make significant progress or accomplish something they haven't before," Amber shares. "But what I love more than anything is when a student who is convinced they hate to read becomes a student who doesn't want to stop reading."
Dr. Peter Finch, superintendent of WVSD208, has been a huge supporter of creating classroom libraries. With his assistance, Amber and the intervention team have been able to create an environment where every student can find something they are interested in reading.
Thank you to Amber and all the other intervention teachers at WV Mid-Level Campus! We and our students appreciate all you do to help create lifelong readers and learners.

---