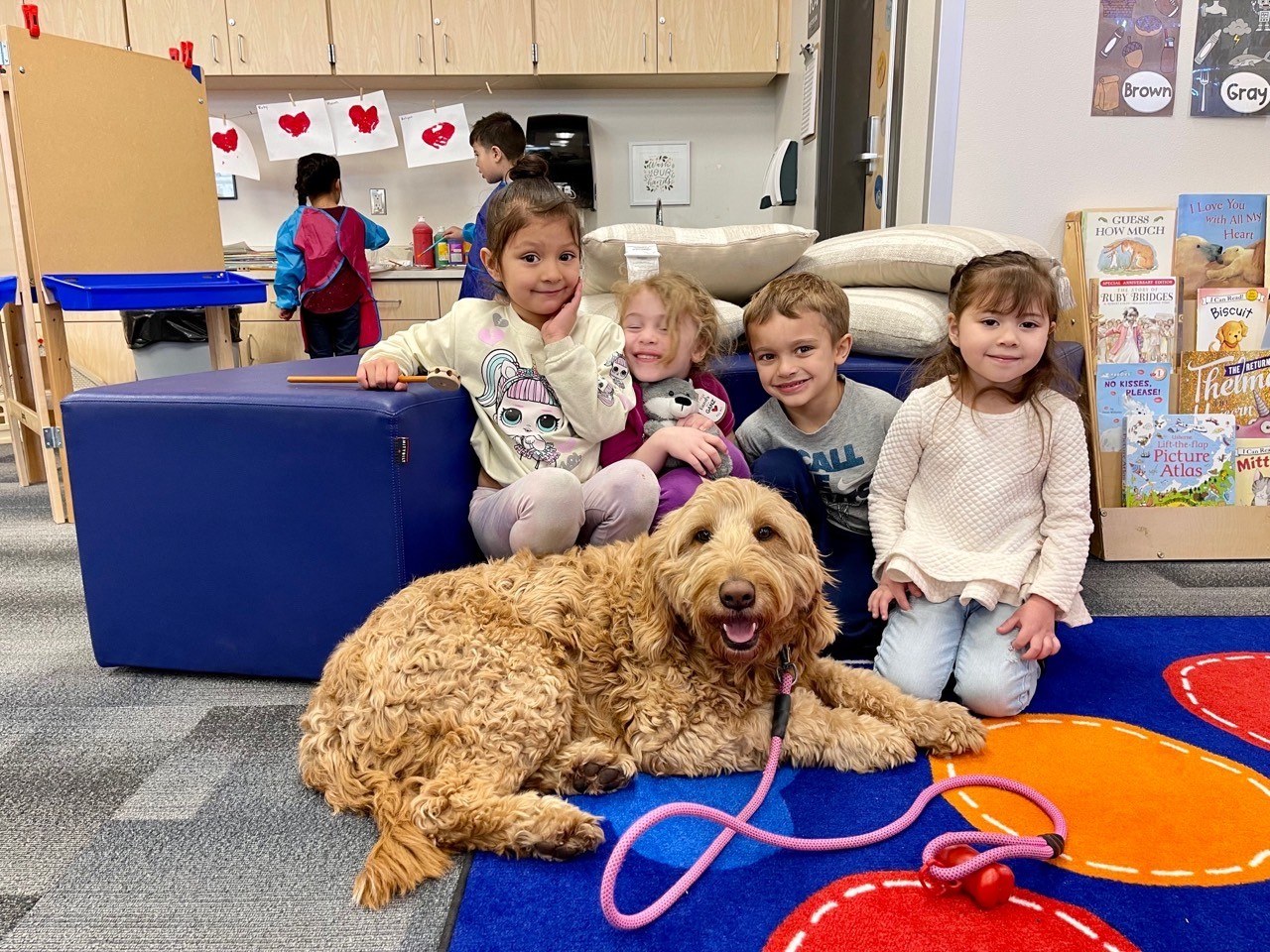 Love on a Leash
Mar 2, 2023
Apple Valley Students Practice Reading with Therapy Dogs
Apple Valley students are receiving help with their reading from an unlikely (and furry) source. Thanks to a partnership with the local chapter of the national nonprofit Love on a Leash, students can practice their reading skills with support from a friendly therapy dog.
Christine Urakawa, who coordinates Love on a Leash visits to West Valley schools, said the interactions are beneficial for students and pups alike.
"Our therapy dogs love visiting and look forward to the time they spend with people of all ages and sizes," Christine said. "Our dogs will build relationships with students over time."
Those relationships, she added, serve to boost students' mental health and provide an enjoyable way to practice reading.
"It is always surprising who wants to read to the dogs because it's not always strong readers," Christine said.
In addition to their work at Apple Valley, dogs and handlers from Love on a Leash have visited students at Ahtanum and Summitview.
"Seeing the smiles and reduction in stress afterward makes our job worthwhile," Christine said.
To learn more about the Yakima Valley chapter of Love on a Leash, visit loveonaleash.org/yakima-valley.

Estudiantes de Apple Valley practican la lectura con perros de terapia
Los estudiantes de Apple Valley están recibiendo ayuda con su lectura de medio improbable (y peludo). Gracias a una asociación con el Chapter local de la organización nacional sin ánimo de lucro Love on a Leash, los estudiantes pueden practicar sus habilidades de lectura con la ayuda de un simpático perro de terapia.
Christine Urakawa, que coordina las visitas de Love on a Leash a las escuelas de West Valley, afirma que las interacciones son beneficiosas para ambos los alumnos y los perros.
"A nuestros perros de terapia les encantan las visitas y desean pasar tiempo con personas de todas las edades y tamaños," afirma Christine. "Nuestros perros establecen relaciones con los alumnos sobre tiempo."
Esas relaciones, añadió, sirven para mejorar la salud mental de los estudiantes y proporcionan una forma agradable de practicar la lectura.
"Siempre es sorprendente quién quiere leer a los perros, porque no siempre son buenos lectores," dijo Christine.
Además de su trabajo en Apple Valley, los perros y entrenadores de Love on a Leash han visitado a estudiantes de Ahtanum y Summitview.
"Ver las sonrisas y la reducción del estrés después hace que nuestro trabajo valga la pena," dijo Christine.
Para obtener más información sobre el Chapter del Valle de Yakima de Love on a Leash, visite loveonaleash.org/yakima-valley.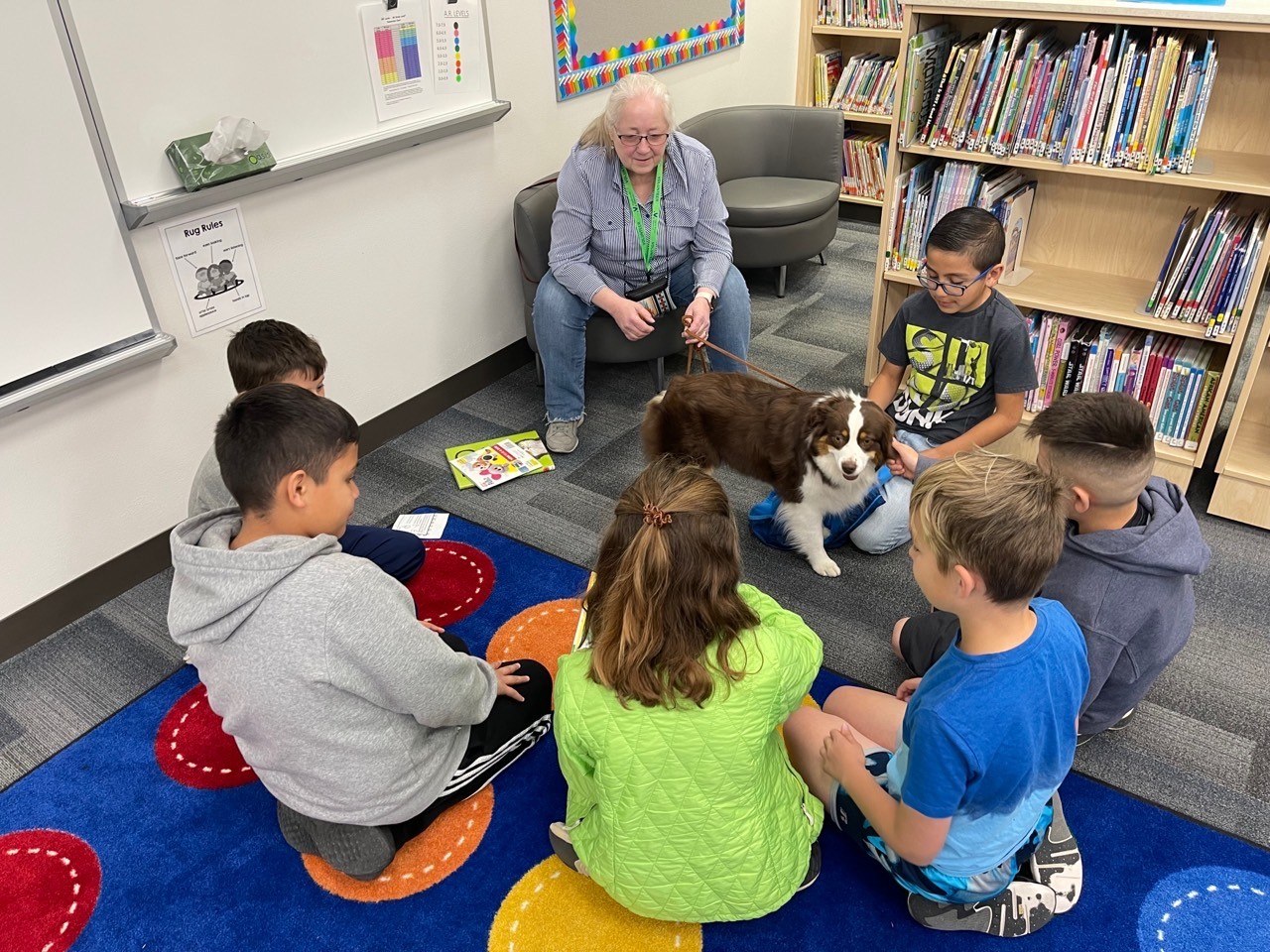 ---